Infrastructure Planning & Designs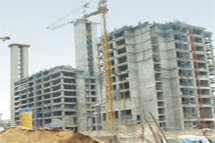 Azad Jain & Associates have a wealth of experience in the planning, surveys, feasibility assessments, detail designing, DPR preparation and construction- supervision of large scale infrastructural projects in both Government and Private sectors (Concessionaire/ EPC contrators) for annuity & BOT / DBFO / PPP models. The projects completed are just an index of our multi-faceted expertise.
Infrastructure design team is backed up by facility planning expert for various surveys & feasibility studies, geotechnical investigation & mandatory statutory approvals.
Types of projects designed by us :
Highways 
Expressways 
Bridges / Flyovers 
ROBs / RUBs
Water supply & distribution systems 
Sewerage & effluent treatment plants
Airports & hangers 
Warehousing hubs 
SEZs
Major Services provided-
Detailed project reports / Detailed designs
Feasibility / Toll surveys (P.P.P. / DBFO projects)
Pre-bid engineering services
Transportation & traffic studies
Independent engineering (IE / IC)
Supervision & quality control services
Alignment & networking planning
EIA / EMP / SIA and R & R planning